Yamaha DXS18
Available to Order
Inquire for delivery date
1 269,00 €
1 399,00 €
-130,00 €
Speaker type
18" Powered subwoofer, Band-pass type
Frequency range (-10dB)
32Hz – 120Hz
Components
LF
18" cone, Voice Coil:4"
Output power
Dynamic:1020W / Continuous: 800W
Maximum output level (1m; on axis)
136dB SPL
I/O connectors
INPUT: XLR3-31 x2 , THRU: XLR-3-32 x 2(THROUGH or HPF POST)
Processors
D-XSUB: BOOST, XTD LF, NORMAL
Cooling
Natural convection
Power requirements
100V – 240V, 50Hz/60Hz
Power consumption
100W
Pole socket
35 mm (depth 80 mm) & M20 (threaded depth 25 mm)
Dimensions
W
563mm (22.2")
H
683mm (26.8")
D
721mm (28.4")
Net weight
49.7kg (110lbs)
Others
Material: Plywood (LINE-X®, Black)
Features
High-Efficiency 1020W Class-D Amplifiers
The DXS's high performance Class-D amplifier is capable of producing up to 1020W* of power, realizing an SPL of 136dB, delivered with exceptional clarity and accuracy. *DXS12 and DXS15 deliver 950W power.
Custom Designed Transducer
The high-output woofer features a 4" voice coil magnet and delivers powerful, well-defined, low-frequency bass with minimal distortion. *DXS12 and DXS15 feature 2.5" voice coil magnets.
Band-Pass Type Enclosure
The DXS Series has a band-pass design that produces extremely high SPL by drastically reducing the distortion.
Durable Wooden Enclosures with LINE-X® Coating
The exteriors feature a LINE-X® coating with extremely high damage resistance to protect the cabinet from scratches and wear, maintaining a professional appearance that can withstand many years of usage.
Selectable X-OVER(80/100/120Hz)
Crossover switching allows users to seamlessly match DXS subwoofers with any of Yamaha's full-range powered speakers by selecting the cutoff frequency best suited to the models in their speaker array (up to 120Hz).
D-XSUB Bass Processing
Powerful D-XSUB processing gives you total control of your low frequency. NORMAL mode gives you the ideally balanced low-frequency response, while BOOST mode provides a more tight and focused bass. XTENDED LF mode drops the low-end frequencies down even further for thunderous bottom end that delivers. Take your full-range system to the next level with the power and versatility of DXS Series active subwoofers.
Cardioid Mode
Because low frequencies can be omnidirectional, controlling the output directivity of a system's bottom end can be a challenge, with the sound pressure hitting the stage often being equal to that of it's intended FOH audience. For setups consisting of two or more DXS18 subwoofers, selecting the newly developed Cardioid Mode function effectively decreases stage-side sound pressure while increasing the bottom-end output directed towards the audience, resulting in a clearer stage monitoring environment and a more pronounced bass experience out front. *Only for DXS18
Dual pole socket
For additional flexibility configuring your speakers, the DXS18 comes equipped with a dual pole socket that accommodates 35mm diameter speaker poles and M20 screws. *Only for DXS18
Optional Wheel Kit (Option)
For more fast and convenient setup of your DXS18 subwoofers, optional wheels are available, featuring radial ball bearings that ensure quiet during your performance. *Only for DXS18 (SPW-1)Optional Wheel Kit (Option)
Type

Speakers

Customs tariff number

85182100

Speaker Output (rms)

800W
Inquire for delivery date
Corporate Information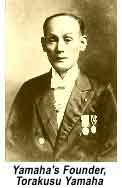 Since 1887, when it began producing reed organs, the Yamaha Corporation in Japan (then Nippon Gakki Co., Ltd.) has grown to become the world's largest manufacturer of a full line of musical instruments, and a leading producer of audio/visual products, semiconductors and other computer related products, sporting goods, home appliances and furniture, specialty metals, machine tools, and industrial robots. Yamaha owns numerous subsidiaries and affiliates in overseas markets in addition to a number of related companies in Japan. Additionally, Yamaha owns and runs its unique resort facilities throughout Japan so as to enhance our customers' leisure and cultural activities. Also, Yamaha provides a place for studying music, sets opportunities for presenting one's own compositions, and creates an environment for the enjoyment of a variety of musical endeavors. Since Yamaha Music Foundation was established in 1966, it has generated a wide range of music activities throughout global society, including Yamaha music schools, and the Junior Original Concert. Strong commitment to promote and support music education and popularization is one of the most significant elements to distinguish Yamaha from its competitors. Yamaha has endeavored to produce products and services that satisfy the diverse needs and desires of people worldwide. Its products and services are recognized the world over for superior quality in acoustics, design, technology, craftsmanship, and customer oriented services. These products and services under the brand name of Yamaha are highly regarded by a large number of professionals, institutions, business people within the related industries, and consumers. Our corporate philosophies are embedded in our customer oriented management and operations; providing excellence in our products and services; continuous efforts to expand our existing market and create new markets; enhancement of research and development on a long range perspective; commitment to care for end users through providing even better service after sale; pursuit of further globalization of Yamaha's business; fostering positive growth through diversification. Yamaha's very basic corporate objective is reflected in everything that it does, which is to contribute to the enrichment of the quality of lives for people around the world.
About Yamaha Corporation of America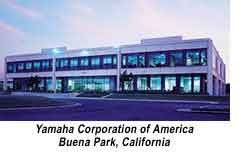 Established in 1960 as Yamaha International Corporation, Yamaha Corporation of America (YCA) offers a full line of musical instruments and audio/visual products to the U.S. market. YCA is a wholly-owned subsidiary of Yamaha Corporation, Japan, and is one of the largest global subsidiary companies. Within YCA, there are several product sales and marketing divisions, including AV receivers, headphones, home theater systems, sound bars and Digital Sound Projectors (AV Division), band and orchestral instruments (Band & Orchestral Division), piano and keyboard products (Keyboard Division), commercial audio and live sound products (Pro Audio Division), music production products, guitars, and drums (Pro Music Division) and music content and services (Yamaha Music Interactive). In addition to these product divisions, YCA has other corporate administrative divisions including Administration, Customer Experience Group, Customer Financial Services, Finance, Human Resources, Information Technology and Operations. YCA also manages its substantial artist relations efforts from five US-based facilities: Yamaha Artist Services, Inc. (YASI) in New York City, Yamaha Artist Services Nashville (YASN) in Franklin, TN, Yamaha Artist Services Indianapolis (YASIN), Yamaha Artist Services Burbank (YASB) in Burbank CA, and the Los Angeles Atelier in Buena Park, CA. The Yamaha Entertainment Group of America was established in 2012 as a boutique, one-stop-shop record label, based in Franklin, TN.
We accept these payment methods
Internet bank link

Choose one of available bank link options. List may change from time to time, so to be sure your favorite bank is in the list, just choose any product, go to checkout, choose pay via Banklink and all the list will be provided to you.

Pay by Card

You can pay bay card. Popular cards are listed bellow.

Paypal

The most popular payment method in the world.

Pay by bank transfer

The simpliest and cost friendly payment method is traditional bank transfer. Choose to pay one of our bank accounts with bank details provided below. If you don't mind, choose pay to Paysera account. Our support team can see the transfer by getting emails from Paysera bank, so we can assure your items will be packed faster.

Bank Details:

Company name: Scenos servisas, UAB
Company code: 300 646 910
Paysera bank account: LT34 3500 0100 0232 6548
SEB bank account: LT71 7044 0600 0585 1897

Please provide Order reference number when making payment. This way we will indicate your order faster.
Відвідувачі, які замовляють цей товар, також купили: